Metallix Refining Inc. proudly announces the unveiling of its new state-of-the-art, precious metals analysis laboratory in Greenville, North Carolina. The 4,000-square foot facility secures the company's place among the nation's top precious metal recycling companies, setting the stage for continued growth and matchless performance.
"We are extremely pleased that after years of meticulous research, design, and implementation, we are now analyzing precious metal-bearing materials in our cutting-edge facility – the scope of which will enhance our value to our customers, suppliers, and business partners,"
– Maria Piastre, Metallix president
Commitment to Progress and Accuracy
Designed by Metallix's Director of Technology Claudio Ferrini, the custom-built analysis laboratory demonstrates Metallix' commitment to progress and accuracy while also addressing its long-standing need for more space. From 2004 until this past July, Metallix' lab was housed on the second floor mezzanine of the company refinery, located across the street from the new facility.
Piastre explains, "Analyzing precious metals is a meticulous process. It not only requires the most sensitive, modern equipment and analytic methodologies, but environmental conditions like temperature and humidity need to be strictly controlled. This new laboratory meets – even exceeds – all of our expectations."
For nearly 50 years, Metallix is a buyer and recycler of precious metal-bearing scrap materials. The company assays gold, silver, platinum, palladium, and rhodium through methodologies including inductively coupled plasma (ICP), fire assay, wet chemistry, gravimetric, titration, and XRF, among others.
Metallix is equipped to purchase and recycle precious metal scrap materials from any industry. Piastre states, "Our customers trust us to recycle the most value from their precious metal-bearing material. Precious metals are measured and purchased in troy ounces, which can trade at values over $1000 per ounce. Arduous attention to detail and accuracy is therefore paramount."
Ferrini adds, "This precious metal laboratory has been calculatingly designed to not only accommodate the new equipment and infrastructure needed today, but with foresight that enables us to continually modernize it as needed well into the future."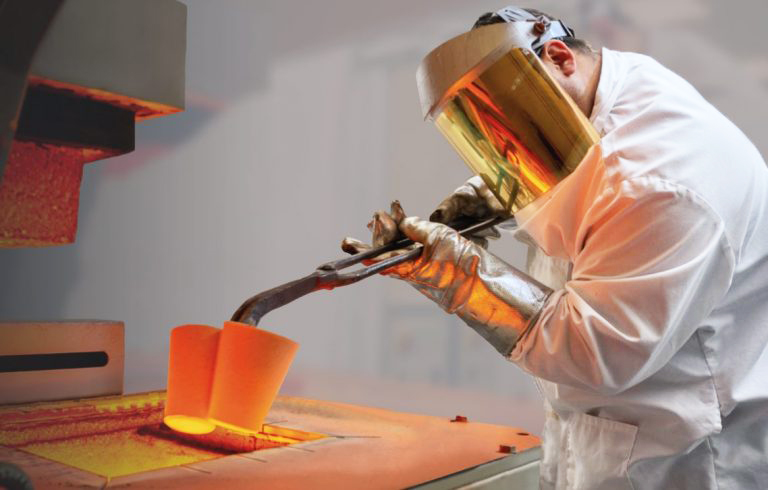 Ensuring Optimal Performance
Three times the size of Metallix' former lab, the new environment features upgraded balances as well as new cupellation furnaces for fire assay testing, XRF equipment for preliminary analysis, and ICP instruments. All equipment runs in a humidity- and temperature-controlled climate, ensuring optimal performance.
The lab also provides a superior level of safety and comfort for Metallix' lab employees.  Extremely efficient filtration and ventilation systems keep employees safe from contaminants, fumes, and dust, and ensures emissions entering the atmosphere are similarly clean.
Piastre concludes, "Metallix Refining is a progressive company in all regards, from our dedicated, knowledgeable employees to our focus on being good environmental stewards to our proprietary thermal reduction technology (APR3) and state-of-the-art processes. Our new lab is simply another example of our relentless self-examination and desire to continually improve. There is no room for status quo at Metallix. Industry leaders don't follow the path of others; they carefully map their own way forward. Metallix Refining's choices are always made with one goal in mind: Ensuring that our customers and suppliers receive the greatest possible value for their precious metals."